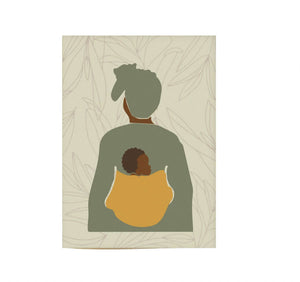 Babywearing Greeting Card
This Mother's Day card is fitting for all moms celebrating for the first time. The card exterior features an illustration of a mother holding her baby in close by Maleah Taylor. Interior message reads: Wishing you a day full of joy as you celebrate the gift of Motherhood! 
 Size: A6 4.5 x 6.25 in
Each card comes with a 100% recycled A6 kraft envelope
Printing Specs: Each card has been printed digitally with 100% non toxic toner on 100% PCW Recycled, PCF Chlorine Free paper.