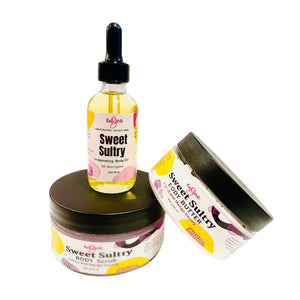 Sweet Sultry Collection
Our Sweet Sultry Collection attracts everything sweet, sugar and spice with this citrus and mango scent! This collection includes a body scrub, body butter, and body oil. These products work together to soften and nourish you skin creating a healthy and supple glow. 
The Body Scrub is packed with Vitamin C, Jojoba oil and Avocado oil to deeply nourish and hydrate.
The Body Butter transforms into luxurious and non greasy layer leaving your skin smooth and softened
The Body Oil is very soothing for the skin and is great to use after shaving or waxing.