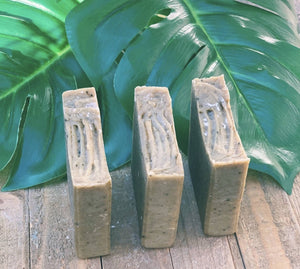 Aloe Moringa Soap

Aloe Moringa will leave you feeling Fresh & Clean! Oh, but that's not it. Made in a base of Organic Aloe Vera juice, it is also very soothing and moisturizing.
Aloe Vera has been shown to be effective in treating dry & flaky skin
Aloe is useful in treating minor burns, sunburn, eczema etc.
Moringa is anti-bacterial and anti-inflammatory.
Fab Tip - Cut your soap in half & it will last longer. Don't let your bar sit in a puddle or sit in the constant flow of water.
Net Wt. ~4-4.8 oz each