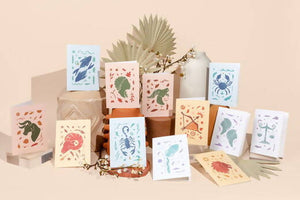 AyaStrology Card Set
Ever wanted to thank your Libra friend for their insightful advice, or your Sagittarius partner for always taking you on memorable adventures? This 12-piece card set lets you do just that! Celebrate the different zodiac signs in your life by reminding them of all the things that make them special.
Inside each card is a scientific definition of the sign, an inspirational message based on its unique qualities. These cards make the perfect gift for a birthday, or just to celebrate your loved ones for being who they are!
MADE WITH:
Each card has been printed digitally with 100% non toxic toner on 100% PCW recycled, PCF chlorine free paper and comes with a 100% recycled A6 Kraft envelope.
DIMENSIONS: 
Size: A6 4.5 x 6.25 in