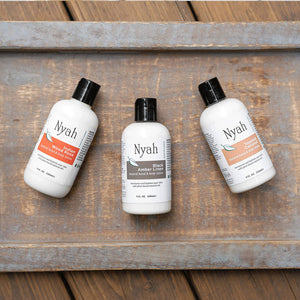 Best Seller Lotion Set
If you've been looking for lotion that will hydrate dry skin...whether from summer sun and outdoors or winter cold and indoor dry heat, all our lotion's smooth and light texture...and oh the wonderful aroma...will beautifully moisturize and wrap your skin in healthy ingredients.
This luxe lotion set includes…
Cashmere Rose, a timeless classic. Among the most seductive and elegant floral fragrances, the scent of a rose is alluring and romantic. 
Black Amber Linen Our most unique, sexy, unisex scent...and won't conflict with your favorite cologne. With notes of fresh cotton, white blossoms and rounded out with cashmere, amber, musk, and patchouli you can start your day on a fresh note...or end your day with relaxing warm aromas.
And then there's…
Toasted Coconut like a splash of summer all year long. The warm toasted coconut scent whisks you to the beach or leaves you standing among the swaying coconut palms.
Safflower oil is a dream for hydrating dry skin and enhancing texture and appearance.
Avocado oil is the nourishing superstar rich in Omega-9 and Omega-6 fatty acids, along with another superstar Vitamin E to penetrate deeply and fight free-radicals that try to do their worst.
Coconut oil hydrates and protects skin and is the ideal base to suspend organic sugar that polishes your skin for a healthy glow.
INGREDIENTS: Distilled Water, Avocado Oil, Sunflower Oil, Fragrance, Coconut Oil, Emulsifying Wax, Stearic Acid, Aloe Vera Juice, Shea Butter, Propylene Glycol (and) Diazolidinyl Urea (and) Iodopropynyl Butylcarbamate