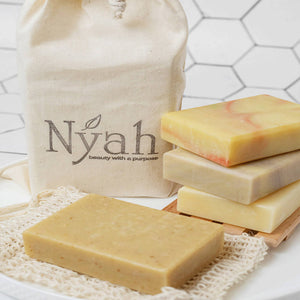 Best Seller Soap Set
Our Nyah Best Seller Soap Pack is inspired by our customer...here's what they told us...
"I have extremely sensitive, dry skin and eczema. I love the fact that Nyah Beauty's handcrafted soaps are natural and lightly scented, just what my skin needs. Ahhhhh! So refreshing & calming!"
"My mom stopped using commercial soap bars years ago due to feeling they were too harsh on her skin.  I sent her Honey Lavender, Oatmeal and Honey and the face bar-she loves them.  Mom says her skin feels just wonderful using these luxurious soaps.  I've been loving those same bars too at home.  Do your skin a favor and use these fabulous soaps.  You'll never go back to mass produced commercial soaps again."
The Best Seller Soap Pack included Citrus and Sage, Honey Lavender, Lemongrass Lavender and Oatmeal and Honey handmade soaps. All packs come with a reusable cloth bag, soap dish & soap saver.
Made with olive oil, coconut oils and shea butter, all our soap wraps your skin in nourishing ingredients, wash off clean, never leaving skin feeling dry.
INGREDIENTS: Olive Oil, Coconut Oil, Distilled Water, Sustainable Palm Oil, Sodium Hydroxide, Shea Butter, Fragrance and Mica.