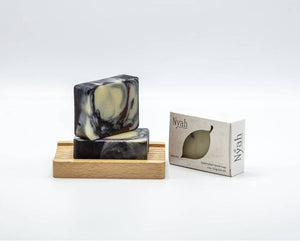 Black Amber Linen Natural Soap
Allow your senses to soak of the fresh notes of cotton, white blossoms, and cashmere.  The hints of patchouli, amber, and musk add a warmth to this luxurious experience. It's kind of like rolling around in fresh sheets just taken off the clothesline on a hot summer day.

BENEFITS: 

Activated charcoal reaches deep into your skin, like a magnet, to pull out impurities and dead skin, leaving skin soft, smooth and clean.
HOW TO USE: 
Rub the soap directly only a washcloth to loofah. Then, apply directly to wellness skin. 
INGREDIENTS:
Olive oil, Coconut Oil, Distilled Water, Sustainable Palm Oil, Sodium Hydroxide, Shea Butter, Fragrance, Mica, and Activated Charcoal.