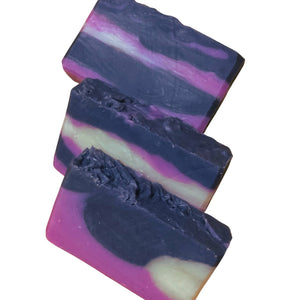 Black Raz Vanilla
Great for dry skin!

Loaded with skin loving oils and activated charcoal for detoxification!
Smells like an enticing blend of blackberries and raspberries, with middle notes of white floral greenery, and bottom notes of musk and vanilla.

Antibacterial properties help maintain skin health.

Great for acne-prone skin.

Anti-oxidants & nutrients helps restore collagen in your skin and slow down the aging process.
Helps in softening and firming your skin.

Fab Tip - Cut your soap in half & it will last longer. Don't let your bar sit in a puddle or sit in the constant flow of water.


Net Wt. ~4-4.8oz each