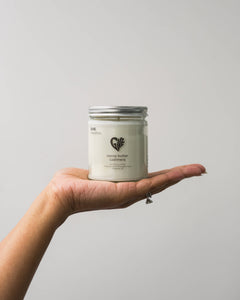 cocoa butter cashmere | GIVErelaxation
*free shipping*
notes
top: warm spices
middle: vanilla tonka, jasmine, coconut
base: cedarwood, sandalwood, amber, musk, cocoa butter
GIVEdetails:
100% soy wax

all natural cotton wick

phthalate/ paraben free premium fragrance oils

approx. burn time: 30-40 hours

reusable 9 oz glass jar

total wax weight: 6 oz
Our mission at GIVE is to serve as a catalyst for people longing to connect or reconnect with someone meaningful- even if that someone is themselves.

- Trim the wick before every single burn, and keep it lit for at least 2 hours the first time to achieve an even & attractive melt pool.

- Processing time allows for maximum curing for made-to-order candles. In candle making, "cure" refers to the chemical process that takes place as the wax & fragrance oil bind and incorporate into each other for enhanced scent performance.