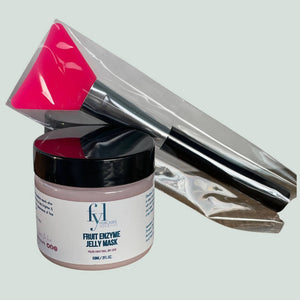 Fruit Enzyme Jelly Mask
Ready to glow up? This vibrant gel mask is full of fruit enzymes to brighten your complexion. They'll break down and polish away dry skin to reveal the naturally glowing, smooth skin beneath. 
The result? Skin that looks lit from within. You're welcome!
What is it
A gentle gel mask for revitalizing dull skin that provides immediate results after just one application. This easy to use gel is made with real fruit to help brighten & resurface by removing all signs of dead skin, reducing the appearance of fine lines and wrinkles while giving all skin types a natural "glow". (Applicator sold separately)
Why it's good
Pineapple enzymes has been well known to improve skin hydration, elasticity, and provide many nutrients to the skin promoting a healthier, more clear complexion.
Papaya enzymes dissolve and remove dead cells from the skin's outer layer.
Pumpkin Seed Extract smoothes the appearance of fine lines and wrinkles and improve skin vitality and tone.
Glycolic Acid loosens dead skin cells and encourages healthy cell turnover.
Lactic Acid assists in toning hyper-pigmented skin.
How to use it
Cleanse the skin thoroughly. Apply a thin layer of gel evenly avoiding eye area or open wounds and leave for 2-5 minutes depending on skin sensitivity. Rinse generously with cool water.  Light tingling will occur.  If skin becomes irritated, wash off immediately with cool water.   May repeat treatment at once per week. Use up to 4-6 weeks in the absence of skin irritation. Gel mask may be layered to enhance effectiveness. 
What's In it
Ingredients: Organic Aloe Juice, Lactic Acid, Honey, Glycolic Acid, Cucurbita Pepo (Pumpkin) Seed Extract, Papaya Extract, Guava Extract, Pineapple Extract, Lemon Bioferment, Orange Peel Wax, Vitamin E, Cellulose Gum, Phenoxyethanol, Benzoic Acid, Dehydroacetic Acid, Orange Essential Oil.
2 oz.