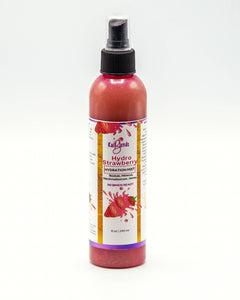 Hydro-Strawberry Hydration Mist
Hydrolyzed Proteins have excellent moisture binding, repair properties, and feel while providing a protective barrier for skin and hair. This is the perfect hydration treatment is made with hydrolyzed baobab protein and other excellent ingredients.
If your hair lacks moisture, it will be more dry and frizzy than usual, and this ultimately leads to hair breakage and fall. If protein is the building block of hair, then moisture is the key that helps to renew and restore it. Hydro- Strawberry will provide the quench needed to revive your hair. 


A Pro-Vitamin B5 infused mist with Calendula extract works overtime to instantly calm and cool redness on-the-go, and other skin irritants. 

This perfect hydration mist is made with hibiscus hydrosol, rose water, Provitamin B-5, honeyquat, hydrolyzed baobab protein, and marshmallow root. 


Key Benefits include:

- Hydration
- Repair
- Protection