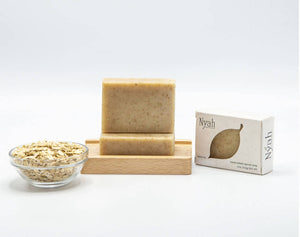 Oatmeal and Honey Natural Soap
Oatmeal and honey sound more like a healthy breakfast, but this tried-and-true combination has been a skincare tradition since ancient Egypt. 
I
nvoking a warm feeling this soap is mild on the skin and leaves you feeling soft and smooth. 

BENEFITS: 

Oatmeal and honey have been used to gently cleanse and draw moisture to the skin, while honey softens and brightens.
HOW TO USE: 
Rub the soap directly only a washcloth to loofah. Then, apply directly to wellness skin. 
INGREDIENTS:
Olive oil, Coconut Oil, Distilled Water, Sustainable Palm Oil, Sodium Hydroxide, Shea Butter, Fragrance, Honey and Oatmeal.