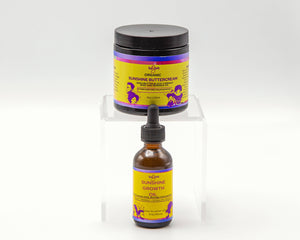 Ray of Sunshine Hair Growth Bundle
This is Beginner's Hair Growth Bundle is the best option for someone looking to prevent thinning and dry hair. The idea wash day items for post-conditioning and an easy regimen. The key ingredients are Alma, Moringa, Black Currant Seed Oil, Jamaican Black Castor oil, and Shea Butter.
Made with 100% organic ingredients. Safe for kids and loved by the elderly. Our Sunshine Buttercream can be used on the body as well.
Wash
Condition
Sunshine Buttercream
Sunshine Growth oil
Style