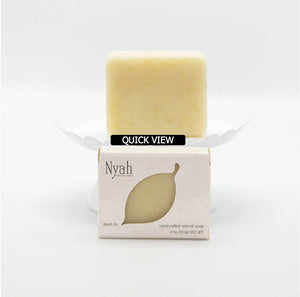 Tea Tree and Eucalyptus Natural Soap
Bring a spa-like experience your home with our Tea Tree and Eucalyptus bar soap as this unmistakably clean and fresh scent swirls around you. 

BENEFITS: 
Tea tree helps to combat redness for clearer and healthier skin, while the eucalyptus scent helps to out your mind and body at ease. 

HOW TO USE: 
Rub the soap directly only a washcloth to loofah. Then, apply directly to wellness skin. 
INGREDIENTS:
Olive oil, Coconut Oil, Distilled Water, Sustainable Palm Oil, Sodium Hydroxide, Shea Butter, Essential Oil Blend, Peppermint Leaves and Poppy Seeds.